Hue & Flow

Harold Feist
Virtual Exhibition April 2 – May 7, 2021
Click for Virtual Tour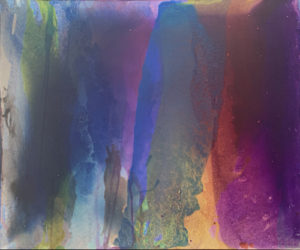 Harold Feist Genus, 2020 Acrylic on Canvas 49 x 59."
Hue & Flow – Solo Show of Harold Feist
Gallery House, Toronto – Canada
Harold Feist's solo exhibition "Hue and Flow" at Gallery House, Toronto, Canada. Virtual showing with booked appointments to be announced via website and Instagram.
Harold Feist is a renowned colour field artist recognized internationally. His works have been part of such notable exhibitions that include the Clement Greenberg "A Critic's Collection" in Portland Art Museum, National Arts Centre, Ottawa – Canada. And Feist has been included alongside such notable artists: Helen Frankenthaler, Larry Poons, Robert Motherwell, Frank Stella, and others.  
With a long history of exhibitions that dates back to 1966, his colour-field works evolved from "wonky overscaled checkerboards made of strange purples and murky green…casual geometric grid…" (Karen Wilkin, art critic) to the Spoke Series, which are also included in this exhibition.  The Spoke works vary in size and scale, demanding space with their profusion of energetic paint and loose control and varying tonal colourations that differ from his recent work.  His most recent work is made up of saturated luminous, elusive images derived from floods of radiant and transparent colour. There are undeniable and underlying coherent rhythms and structures to these seemingly accidental splatters of paint mastered by years of intuitive control.
Feist's unique painting style celebrates the painting process and is truly a mastery of light and colour. He is an artist who merges innovation and science, beginning with creating his own "paint."  This is achieved by purchasing the chemicals and colours separately and creating formulas that allow him to "pan for gold."  Applying the liquids, he moves the canvas, tilting and controlling the fluid flow on the surface. Therefore, the overlap of colour is the "brushstroke," the observation and movement are captured in effect much like rivers flowing from their internal forces. Feist bravely balances the fine line of chance and encounter to allow the works to be found utilizing this technique of panning and mastering the control of the liquid acrylic washing over the canvas.  This thin all over and at times surprisingly hued colour becomes in the words of art critic Karen Wilkin:
 "…luminous, elusive images built out of floods of radiant, transparent hues that seemed to have come into being almost without the agency of the hand, as if the colour had magically spread across the canvas.."
And as Wilken outlines in her critique of Harold Feist, "…contrast to these forthright, unguarded paintings, Feist, the man, is cerebral, reserved, rather shy, self-deprecating. He is notably well-read, with an impressive knowledge of scientific arcana and the cyber-world."
Like Wilkin, it took us at Gallery House a couple of years to get to know Feist through the occasional studio visits and talking about his daughter's dogs. One day we discovered by inquiring about an antique radio he had in his house, that he had repurposed it to stream music from the internet. Feist himself had some crossover dabbling in NASA. Feist is, in a sense, today's modern renaissance man. Always curious and like any true artist, constantly pushing the boundaries of learning, working, and exploring.
Gallery House is unlike any commercial gallery in the world. We deliberately partner with commercial galleries and work with curators at institutions on behalf of our artists. We have garnered attention from some of the top institutions, including the Museum of Modern Art – New York, Bristol Arts Museum – United Kingdom and numerous partnered galleries in over fifteen countries and growing.
Gallery House artists assume an ambitious presence at the following art fairs each year: Art Toronto, Hamptons Art Market, AAF Battersea, AAF Hampstead, AAF Amsterdam, Art Amsterdam, Scope Miami, Art Belgium and Art Stage Singapore.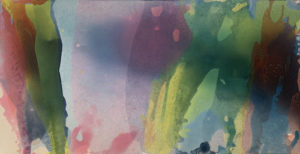 Harold Feist Proprius, 2021 Acrylic on Canvas 26 x 51.5."
Our community and friends' health and well-being continue to be our top priority and have guided us to continue hosting our exhibitions when possible in person and virtually. We will be pausing booked appointments until we update our Contact page or see our Instagram page. And when booked appointments are available, social distancing practices will be enforced. Please also be sure to scroll further down to view the current and upcoming exhibitions worldwide and in our brick and mortar space in Toronto, Canada.
Please stay well and safe!
~ Gallery House Family