Vision
Gallery House specializes in broadening the audiences of our artists and we develop relationships with dealers around the world. We ensure the dealers receive and rotate inventory; shelter works at certain times; drive traffic and new clients to them. We provide collectors assurance the price is standardized, transparent and can provide them alongside our partnered dealers detailed information about each of the artists works.  Further we exhibit and build collections on important works by some of the most in demand contemporary artist today as well as new contemporaries. Founded in 2008, our artists have a history of breaking public attendance record at museums and at galleries.
Annually we curate exhibitions on site by facilitating discussion among artists, writers, curators, museums and private collections showcasing our artist or an invited artist. Gallery House artists assumes an ambitious presence at the following art fairs each year: Art Stage Singapore, Art Toronto, Hamptons Art Market, AAF Battersea, AAF Hampstead, AAF Amsterdam, Art Amsterdam, Scope Miami, Art Fair Tokyo.
About Us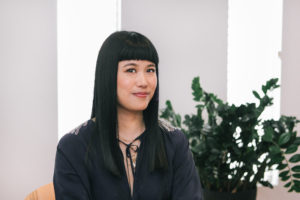 Owner
Belinda Chun
Since 2000, Belinda Chun has been professionally involved in the Fine Arts industry, working for commercial galleries and institutions such as the Art Gallery of Ontario, the Royal Ontario Museum, the McMichael Gallery and The Power Plant. She has also served as a private curator, presenting special exhibitions and participating in prestigious art fairs such as ARCO Fair-Spain, Art Expo-England, Scope LA, Scope New York, Art Forum Berlin and Art Chicago.
In 2009 she founded Gallery House, a unique space and concept that allows her to manage the careers, legal matters, inventory rotation, logistics and world-wide exhibitions of the gallery's stable of artists, while also providing a 2000 sq m gallery that acts as a home base.
She is also a member of the International Association of Appraisers and has served on various boards and committees including the 2013 Board of the Power Ball (Power Plant Gallery), the 2014 Canadian Art Foundation Gallery Hop committee and was recently part of the Event Committee of the World Wildlife Fund and the Baycrest Foundation Brain Project.
.
.

Special Project
David Keyes
David Keyes is an installation specialist focusing on archival boxes, storage systems and specialized objects for the gallery.  He is also a writer, publisher, musician and artist who has been involved in the Toronto arts scene for more than 30 years.
History
Gallery House has garnered attention from some of the top institutions including the Museum of Modern Art, New York; Bristol Arts Museum United Kingdom and numerous partnered galleries in over 9 countries and growing.
View Past Shows
EXHIBITIONS PRODUCED BY GALLERY HOUSE

2020 Gallery House, Toronto Canada
March 7 – April 3 – Jeffrey Chong Wang "The Other Side of Now" (solo show)
June 6 – Debra Tate Sears (solo show) social distancing with complimentary ticketed booking via email
To be Announced – John Kissick (solo show)
2020 International Exhibitions for Gallery House Artist
Ray Caesar
March – LA Art Fair Copro Gallery (fair)
April 24 – June 20 "Modern Surrealism" with Authorized Dealer Benjamin Eck Projects Gallery, Munich Germany (double solo show)
May 14 – June 27, 2020 – Group Show with Authorized Dealer Kochxbos Gallery, Amsterdam Netherlands (group)
Jeffrey Chong Wang
April 23 – 26 – Art Market Art Fair with Authorized Dealer Arcadia Gallery – San Francisoc, USA (art fair)
June – July – "The House of the Rising Sun" with Authorized Dealer Dorothy Circus Gallery, Rome Italy & London UK
2019 Gallery House, Toronto Canada
March 23 – April 26 – Ray Caesar "Beautiful Broken Things" (purchase catalogue) (solo show)
June 1 – July 12 – Jared Prince "Fun Times" & Kizi Spielmann Rose "All In My Mind" (purchase catalogue) (double solo show)
Sept. 28 – Oct. 25 – Zach Atticus Tuinman & Julia Hepburn – "How To Live Forever" (double solo show)
Nov 15 – Dec 22 – Ray Caesar "The Story So Far" (solo show)
2019 International Exhibitions for Gallery House Artist
Ray Caesar
June 13 – July 6th – "Another Country" James Freeman – London, UK (group show)
Sept. 7 – 28 – "BLAB Exhibition" Copro Gallery – Santa Monica,US (group show)
Jeffrey Chong Wang
Aug. 17 – Sept. 7 – "Five and Under" – Arcadia Gallery – New York, US (group show)
Jan. 23 – 27 – LA Art Show with Arcadia Gallery – Los Angeles, US (art fair)
Feb. 15 – 18 – Palm Spring Art Fair with Arcadia Gallery – Palm Springs, US (art fair)
March 16 – 30 – "Mondo Tondo" Arcadia Gallery – Pasadena, US (group show)
April 4 – 7 – Philadelphia Fine Art Fair with Arcadia Gallery – Philadelphia, US (art fair)
April 14 – June 8 – "Mother & Child" Dorothy Circus Gallery – Rome, Italy (group show)
Ray Caesar & Jeffrey Chong Wang
March 19 – 31st – "Metaphysical: Dark & Fantasy" Vanilla Gallery – Tokyo, Japan (group show)
2018 Gallery House, Toronto Canada
Mar. 1 – Apr. 12 – Adam Giroux, Jeffrey Chong Wang & Adam Wallacavage – "The Sound of Tomorrow" (catalogue) (purchase) (group show)
Apr. 26 – June 7 – Jana Brike – "Summer of the Wild Wallflower" (catalogue) (purchase) (solo show)
Jun. 16 – July 14 – Andrew Watch & Rebecca Heasman "The Rise of the Creative Class" (catalogue) (double solo show)
Sept. 13 – Oct. 20 – Harold Feist "Surface & Colour"  (purchase catalogue) (solo show)
Nov. 17 – Dec. 21 – Jana Brike, George Cho, Jeffrey Chong Wang & Selena Wong "…The Dance Off" (group show)
2018 International Exhibitions for Gallery House Artist
Jeffrey Chong Wang
Aug. – Sept. – Arcadia Contemporary – Pasadena, US (group show)
Oct. 20 – Bennus Gallery – Beijing, China (group show)
Jan. – Los Angeles Art – LA, US (art fair)
Ray Caesar
Oct. 20 – Dorothy Circus Gallery – Rome, Italy (solo show)
Oct. –  Texas Contemporary Art Fair with Roman Gallery – Texas, US (art fair)
Nov. 24 – Jan.19 – Kochxbos Gallery – Amsterdam, Netherland (group show)
Dec. – Context Art Fair with Corey Helford Gallery – Miami, US (art fair)
2017 Gallery House, Toronto Canada
Jan. 28 – Feb. 25 – Ray Caesar – "Tainted" (catalogue) (purchase) (solo show)
Mar. 4 – Apr. 1 – Adam Giroux – "Locus" (solo show)
May 13 – June 10 – Contact Festival – Dina Goldstein "Fallen Princesses" & Daniel Lanois "North" (double solo show)
June 24 – July 27 – "YES! Summer" (group show)
Sept. 9 – Oct. 12 – Jess Cooper "Viral Series" & Jeffrey Chong Wang "The Night of South Peking" (catalogue) (double solo show)
Nov. 4 – Dec. 16 – Ray Caesar, Selena Wong & Lori Field – "Pulp" (catalogue) (works on paper group show)
2017 International Exhibitions for Gallery House Artist
Ray Caesar
Jan. 18 – 22 – London Art Fair with James Freeman Gallery – London, UK (art fair)
July – Damien Roman Fine Art – NY, US (group show)
Oct. 12 – Dec. 14 – Dorothy Circus Gallery – London, UK (group show)
Gottfried Helnwein
Apr. – One Man Show – Werner Berg Museum Bleiburg (solo show)
2016 Gallery House, Toronto Canada
April 16 – May 7 – Troy Brooks – "Veiled Hearts" (solo show)
May 14 – June 4 – Contact Festival – Myron Zabol – "People of the Dancing Sky" (solo show)
June 11 – July 2 – Jack Burman (solo show)
July 23 – Aug 20 – Ray Caesar Rare Works & Last Editions (solo show)
Sept. 10 – Oct 6 – "The Hours of Silence" Curated by GH & Ray Caesar Featuring:
Jana Brike, Troy Brooks, Ronnie Burkett, Ray Caesar, Elif Varol Ergen, Sonya Fu, Ryan Heshka, Jessica Joslin, Heiko Mueller, Aron Wiesefeld & Selena Wong (catalogue) (group show)
Oct. 13 – Nov 10 – Brian Richer & Carol Sutton (double solo show)
Oct. 20 – Special Lecture in the format of "In Conversation with Carol Sutton & Sky Goodden, Editor of Momus"
Nov. 24 – Dec. 22 – Jared Prince & Alice Yun (double solo show)
+ Artist Limited Edition Book Launch of Ray Caesar, Selena Wong, Myron Zabol
2016 International Exhibitions for Gallery House Artist
Ray Caesar
Aug. – Corey Helford Gallery – LA, US (group show)
July 13 – Aug. 4 – James Freeman Gallery – London, UK (group show)
June – Affordable Art Fair Hampstead with Richard Goodall Gallery – London, UK (art fair)
Gottfried Helnwein
Pan Palazzo Delle Arti Di Napoli (Retrospective)
Friedman Benda Gallery (solo show)
2015 Gallery House, Toronto Canada
May – Selena Wong, Myron Zabol (double solo show)
Sept. – George Hyun Jae Cho (solo show)
Nov. – Ray Caesar, Selena Wong (double solo show)
2014 Gallery House, Toronto Canada
May – 78/46 – Myron Zabol (solo show)
June – Brian Richer & Stephen Ibbott – "Calcium Oxide" (double solo show)
Sept. – Ray Caesar, Andre Fauteux, Gottfried Helnwein, Stephen Ibbott, Anita Kunz, Brian Richer, Carol Sutton, Selena Wong & Myron Zabol – "Evergrande, 3rd Annual Show" (group show)
Nov. – Cabinet of Curiosities (group)
2013 Gallery House, Toronto Canada
Apr. – Catherine Howe, Ray Caesar, Brian Richer, Joe Fenton – Catherine Howe Recent Paintings & Unique Prints from the Proserpina Series, and other works from Gallery House Artists
Oct. – Gottfried Helnwein, Brian Richer, Anita Kunz, Ray Caesar – Truth, Light and Matter
2012 Gallery House, Toronto Canada
Nov. – Gottfried Helnwein, Ray Caesar, Catherine Howe, Anita Kunz – Miles to Go Before I sleep