NEW WORK BY HAROLD FEIST
Opening Night – September 13th  6 p.m. to 9 p.m.
Artist will be in attendance
Toronto: Sept. 13 – Oct. 20, 2018 – Gallery House is proud to announce the opening of Harold Feists first solo show since 2014.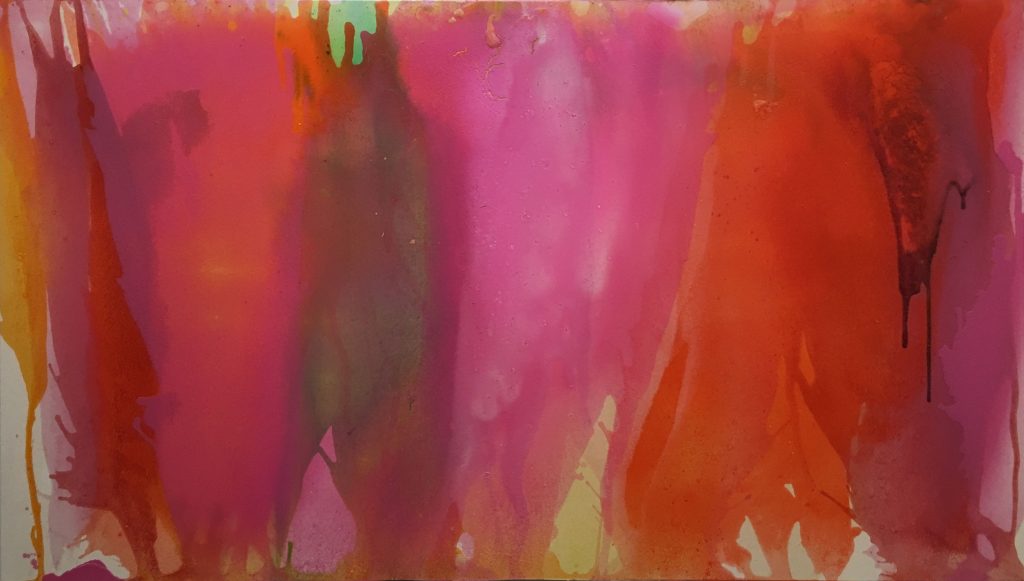 Harold Feist is a preeminent and influential Senior painter in the Canadian abstract and colour field world. Known for his fearless and flowing use of glowing colour and his 'Spoke' influenced work he has been showing since 1970.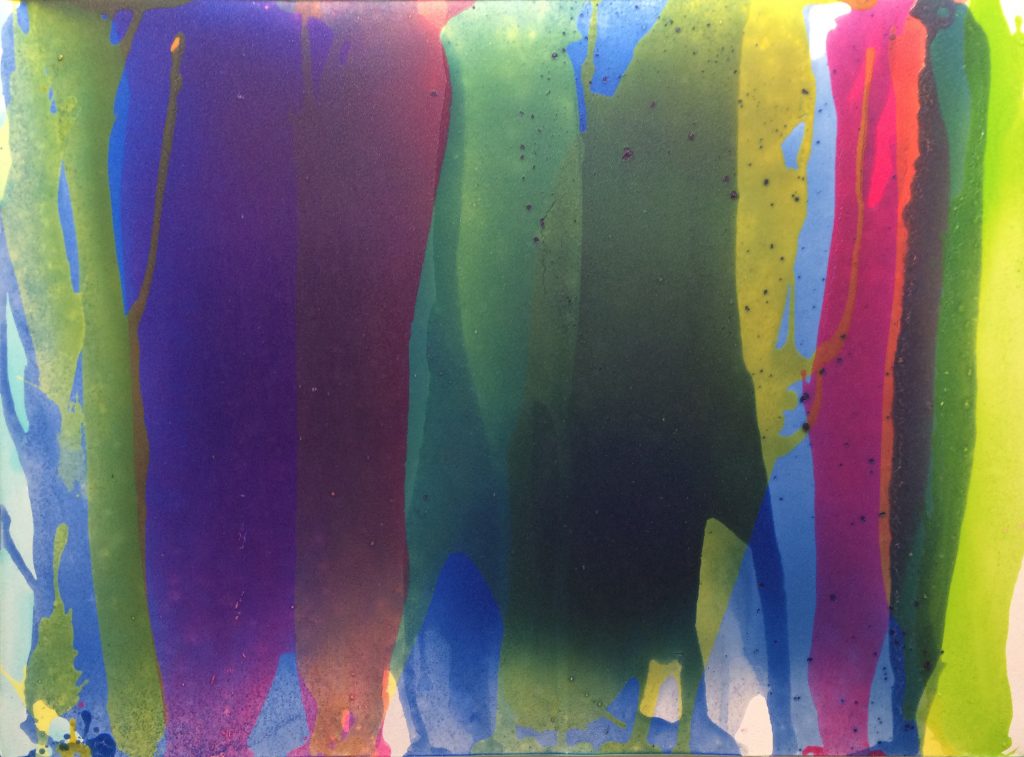 Feist, who was born in Texas, studied painting and Art History at the University of Illinois and went on to become a Hoffberger Fellow at the Maryland Institute College of Art, where he had hopes of apprenticing under the abstract painter Clyfford Still. However, after a year, a chance trip to Calgary with a friend landed him a teaching position at the Alberta College of Art, and with Still having become increasingly isolated in the latter part of his career, Feist immediately accepted. It was 1968, and by that time the Canadian prairies had already undergone a flourishing in abstract painting. Two decades earlier, Regina, Saskatoon, and Edmonton had become the site of workshops, galleries, and university courses taught by well-known American abstract painters who garnered the praise of New York art critic Clement Greenberg. Unintentionally, Feist came to share a geography with these painters and spent the length of his career in Canada with numerous solo and group exhibitions across North America. He had his first solo exhibition at the Glenbow Museum in 1970 and was included in an important group exhibition at The Edmonton Art Gallery entitled Prairie '74, which focussed on an emerging set of promising abstract painters in western Canada.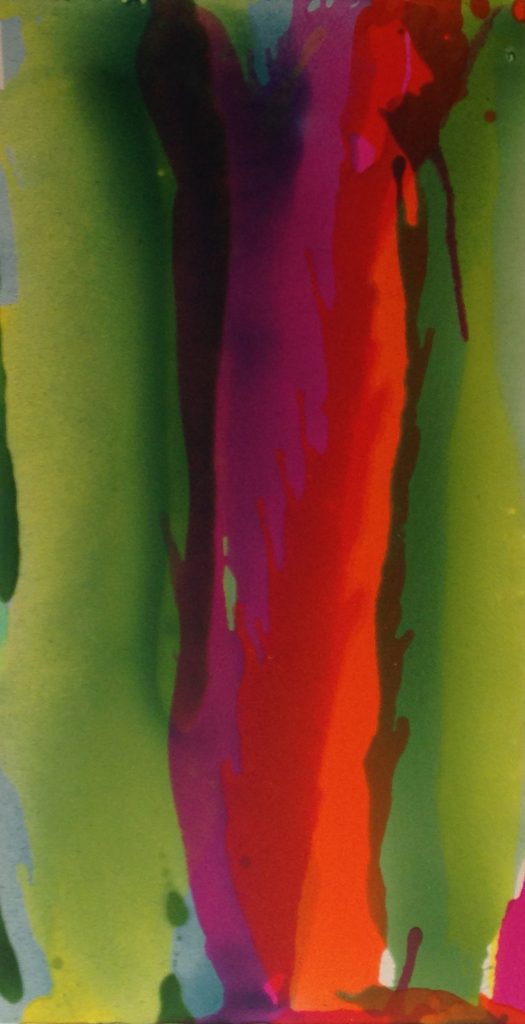 Feist's most recent works are "luminous, elusive images built out of floods of radient, transparent hues that seem to have come into being almost without the agency of the hand, as if the colour had magically spread across the canvas." (Karen Wilkin Between Decisiveness and Discovery: The Paintings of Harold Feist)
Purchase a catalogue of the upcoming show here.
---
Just Closed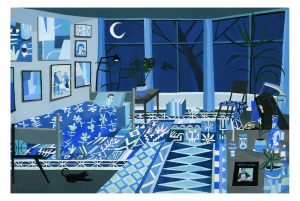 Above: Curtains, 2017, Acrylic Gouache, 15 x 22"
"THE RISE OF THE CREATIVE CLASS"
NEW WORK BY ANDREW WATCH & REBECCA HEASMAN
Opening Night – June 16th 6 p.m. to 9 p.m.
Artists will be in attendance
We are excited to announce the showing of Rebecca Heasman and Andrew Watch, two young rising stars who share a draftsman's sensibility of precise line and a profound awareness of nature and form.  Gallery hours are Thurs – Sat 11:00 – 4:00 pm. To view the catalogue of the show click here.
Above: Coffee Klatch, 2018, Acrylic Gouache, 15 x 22 "
Andrew Watch's intricate gouache encompass pattern, objects and vibrant colour creating a catalogue of memory; a compendium of occupied rooms, of events past or about to take place, of childhood objects weighted with remembrance. His works on paper showcase variants of overlapping colour, shape and texture, which allude to a disorienting yet palpable reduction of the world around him. Influenced by his interest in Korean culture and travels in Asia, Watch has been exploring memory and pattern.
Above: Golden Hour, 2018, Acrylic Gouache, 22 x 30"
Watch received his BA. Design from OCAD University and was recipient of the 2017 Illustration Medal Award for his achievements in the program. His work has also been recognized and exhibited by American Illustration, Applied Arts, The Artist Project, the Propeller Gallery and the Museum of Illustration in New York.
Rebecca Heasman is an artist creating works out of Toronto and Prince Edward County. She is a recent 2018 graduate of OCAD University, majoring in Printmaking with a strong focus on the medium of ceramics and screen-printing and heavily influenced by plant life and nature.
Rebecca strives to find related paths between ceramics and print media, often creating with both mediums to convey alike concepts. As an artist, she takes interest in the relationships between man and nature. Heasmen works cross the boundary of 'them and us' in relationship to the human condition and natural environments. This overarching theme takes inspiration from her childhood memories of growing up surrounded by nature, fully appreciating and understanding this rooted connection only after moving to a city that seemed divided from nature. Rediscovering her connection and exploring these themes shows in pieces that work by contrasting human structure and plant matter.
Stirred by the extreme changes of the natural landscapes and vivid colouration of red and pastel clay found naturally from a recent trip to Nevada, Heasman has been creating a new trilogy of work focused on the pattern and colour inspired by the rocky Nevada terrain.
To view the work request a VIP package by contacting us. This exhibition is on view at Gallery House till July 14th inclusive with the hours of Thurs – Sat from 11a.m. – 4 p.m. For more information contact Gallery House at 416.587.0057 or info@galleryhouse.ca
To view a catalogue the show click here. To view photos of the opening night click here.
Thank you to our opening night sponsors