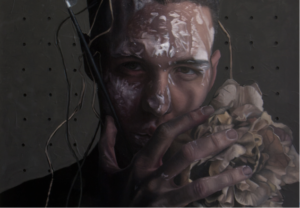 Above: Adam Giroux, Transaction5 (detail) 2018, Oil on Board
The Sound of Tomorrow
Adam Giroux, Jeffrey Chong Wang and Adam Wallacavage
Group Show
March 1, 2018
We are excited to announce the return of Gallery House artists Adam Giroux and Jeffrey Chong Wang for a group exhibition of their evocative and transcendent work.
Giroux's haunting, muted portraits of nameless individuals tell of the subjects' perspectives toward willpower and the idealized self through cryptic symbolism and personal metaphors. These themes are presented in large oil paintings, blending both dark realism and abstraction into works that invite the viewer to view and evaluate their fixations through a different lens as he evaluates his own life in parallel. Continuing where he left off in his last solo show Locus, Giroux explores the boundaries of obsession and identity; referencing past pieces, subtracting elements, isolating individual components in oil and in other elements and different surfaces.
"The work I'm preparing is about relationships between people and what myself and others choose to give and take when building connections. When we establish a friendship/romantic partner/business partner, we select the attributes we like about the other person, but sometimes expect the entirety to be as fulfilling as the select pieces. I'm hoping to examine the little offerings in isolation, without the corruption or context of the whole. It's all about the tiny little transactions between people; exchanging a touch on the forearm for a kind word, or the body-language associated with disappointment in response to a forgotten obligation."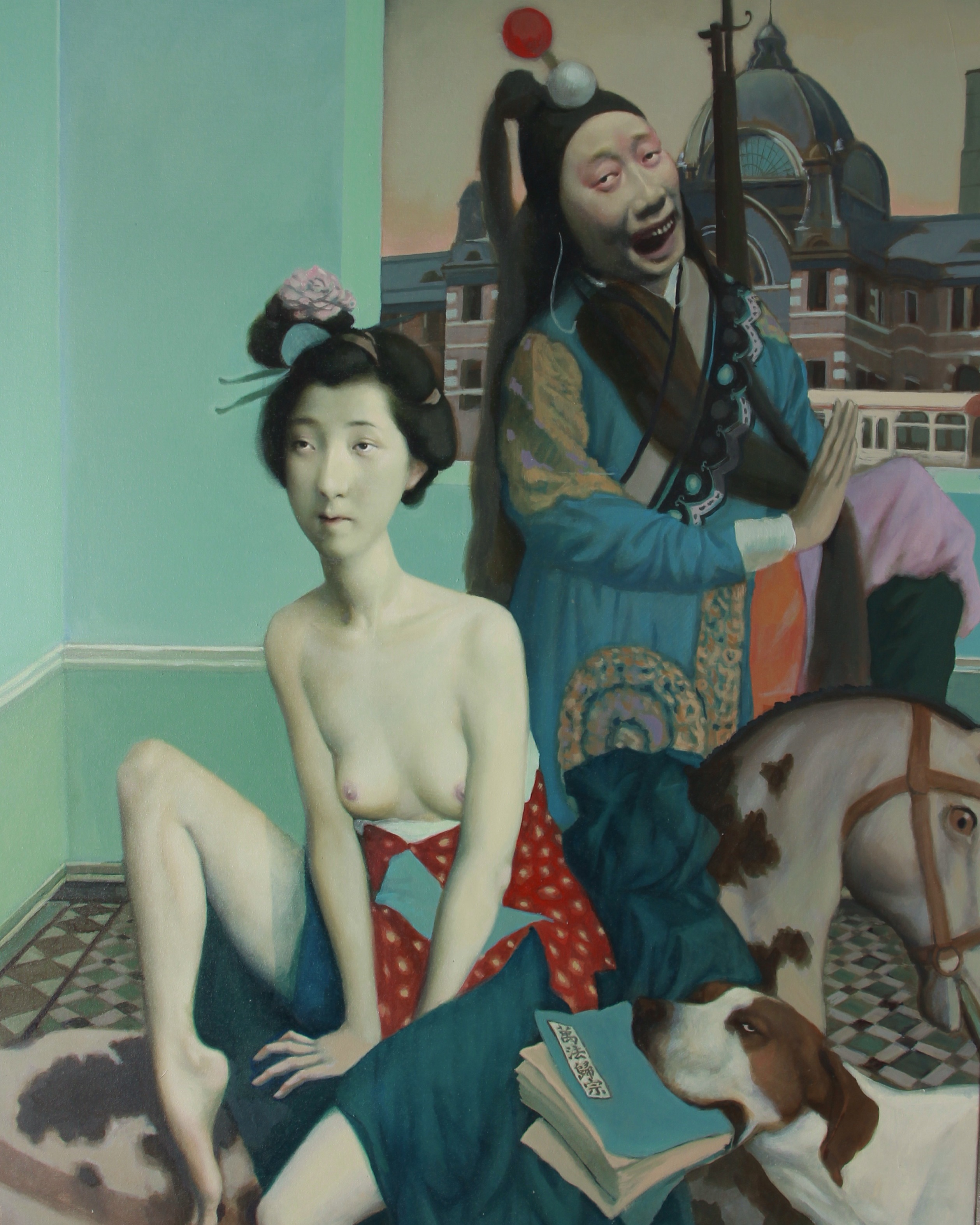 Above: Jeffrey Chong Wang, Seeing Off, 2018, Oil on Canvas
Wang's art is opulent in a symbolism that richly references bygone centuries rendered in a classical, almost Florentine style. His work is filled with intrigue and theatrics; his paintings exist not in the landscape of the familiar but in memories of places that do not exist. Wang's work reveals an inexhaustible talent for reinventing historical models for an ahistorical age. They are strangely disquieting and expressionistic.
"All the figures that I create on canvas are myself in a way; they reflect my cultural upbringing, personal feelings, and experiences. I think of them as characters in a drama, and the canvas as a stage. My work is a response to the imbalance between my inside feelings and the outside world. I fuse classical concepts and traditional techniques into my work using my own exaggerated figures. These figures reflect the history of western oil painting techniques but also show contemporary themes of eastern culture."using my own exaggerated figures. These figures reflect the history of western oil painting techniques but also show contemporary themes of eastern culture."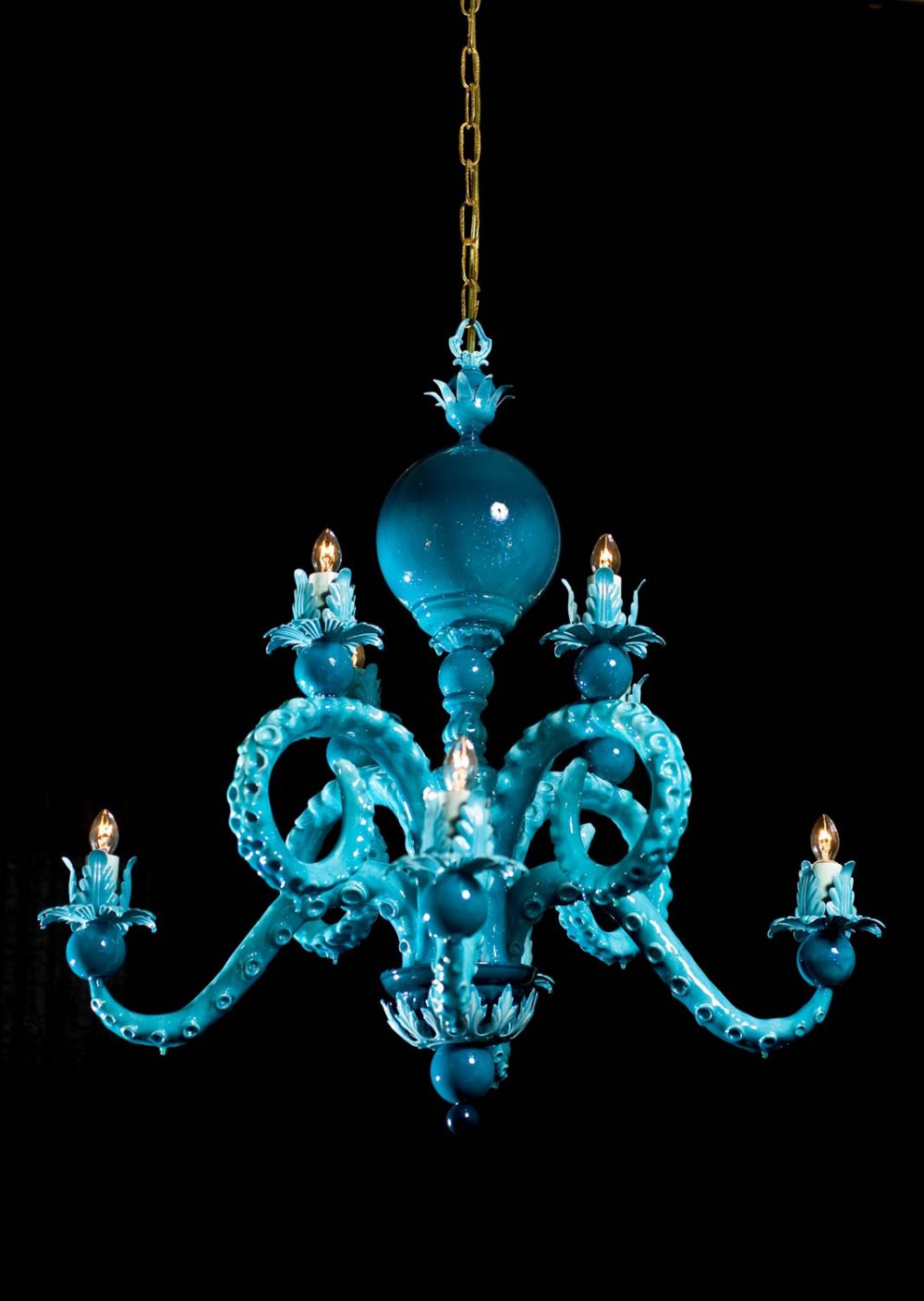 Above:  Adam Wallacavage, No Spell, Epoxy Clay, Epoxy Resin, Acrylic Paint, Lamp Parts
Adam Wallacavage is an American artist, known for his surreal and highly ornamented interior design details such as octopus chandeliers. Wallacavage was born in 1969. In 1995, he received his BFA in Photography from the University of the Arts in Philadelphia. By the time of 2001, Adam has mastered the craft of ornamental plastering and he started to create his famous octopus shaped chandeliers inspired by sea adventure stories and Catalan architect Antoni Gaudy and his church
Adam's chandeliers are somewhere between Art Nouveau motifs and surrealist imagination. By using traditional ornamental plastering techniques, Wallacavage casts the forms which he later paints with pigmented epoxy resin. In the end, he applies iridescent powders and glitter. Adam's chandeliers have been presented in galleries all around the world: São Paulo, Rome, London, Miami, Los Angeles, Vienna, New York.
Click here to see a full catalogue of the show. Click here for photos of the opening.
---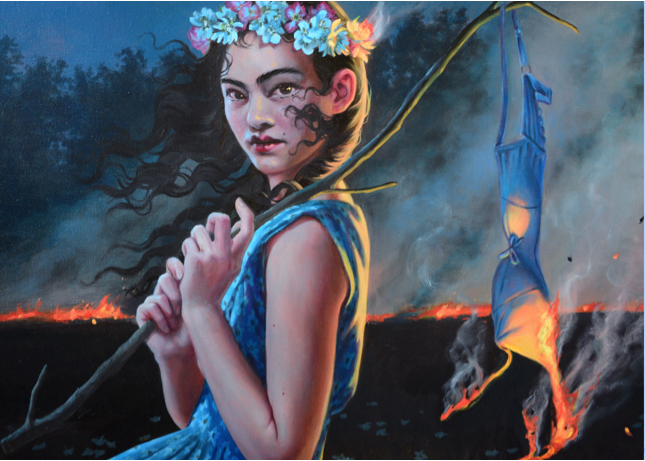 Above: Jana Brike, work in progress (detail) 2018, Oil on Canvas
Summer of the Festive Wallflower
Jana Brike
April 28, 2018
We are excited to announce a solo show of Jana Brike's colourful, disturbing and bittersweet work.
I am so small I can barely be seen.
How can  this great love be inside me?
Look at your eyes. They are small,
but they see enormous things.
                                                                                                                                                – Rumi
Jana Brike's art, bursting with summer colour light, obsessively documents dreams, loves, longing, pain; the vast range of emotions that the human condition offers and how growing up and self-discovery can transcend them all. Her work, with it's strong narrative and youthful figures, is a poetic visual auto-biography inspired by folklore, fairytales, children book illustrations, imaginative soviet animation films and supernaturally real classical painting. With her work, she creates an eerily forbidden world with secret imagery and mystical, almost religious tones that are grounded in nature and the haunted cloud of soviet brutality.
Brike was born in 1980 in Riga, Latvia. She studied classical painting at the Art Academy of Latvia receiving her M.A. degree in 2005. Her work has been exhibited internationally since 1996 and she has had more than 13 solo exhibitions and nearly 100 other project and group exhibitions. While she paints mainly in oils on canvas, she has also explored drawing, animation, mixed media sculpture, installation and digital art.
"These visual poems blend together the beauty and cruelty of life, its preciousness and
fleetingness, lushness and decay, birth and death and the bittersweetness that comes
through aware witnessing of it all."