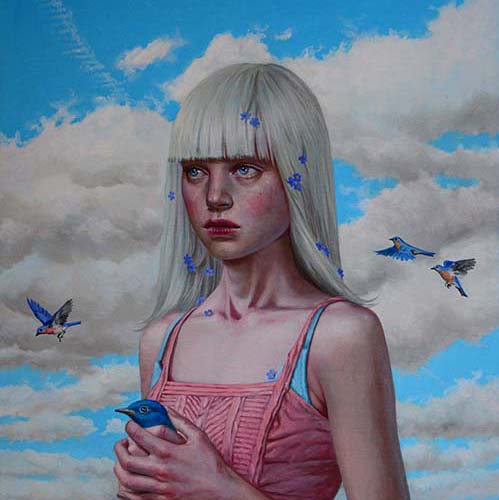 Above: Summer of the Wild Wallflower, 2018. 20 x 24″, Oil on Canvas
"Summer of the Wild Wallflower"
Jana Brike
All NEW Works
Gallery House is excited to announce a solo show of Jana Brike's colourful, disturbing and bittersweet work. The exhibition is on view till June 7, 2018 with gallery hours Thurs – Sat 11 to 4 pm. Can't get to the show? Click here to watch the video.
Excerpt from the introduction to the exhibition catalogue written by Jo Minhinnett:
In Summer of the Festive Wallflower, Jana Brike radically reimagines her own coming-of-age story in scenes bursting with colour, scantily-clad females, and sexual discovery.

Above: Echoes From The Centre Of The World, 2018.  24 x 32″, Oil on Canvas
Painted with the precision and realism of the classical tradition, Brike's work shares the aspirations of Symbolism as she invites viewers into a private fantasy of her personal dreams and ambitions. Brike presents her characters as archetypal females in the heat of adolescence and in a place far from the reaches of our modern world. Here, they are free to explore their feminine identity and sexuality with ultimate autonomy.
In these paintings, Brike celebrates the most adventurous narratives of womanhood and illuminates teenage experience, without all the angst. There is nothing that can be secret or hidden under the harsh light of summer. Not even a wallflower can stay in the shadows of awkwardness and doubt.

Above: New Day Rising, 2018. 11.5 x 15″, Oil on Canvas
Brike doesn't mean to provoke us with indecency nor turn us into voyeurs. Her paintings are deeply rooted in her own struggle with the transition between adolescence and womanhood. As though projecting herself into an alternate dream-reality, she often paints her own face onto these protagonists who become subversive, tender, and playful all at once. Neither children nor adults, Brike calls them female "creatures".
In her imagining of a place where females respond intuitively, rather than according to a gendered social system, Brike transgresses the oppressiveness of her upbringing in Latvia under Soviet rule. In her own words, her paintings offer "a very distinctive and different world view. . . where there is no competition for a better place under the sun, where there is no hierarchy, where everybody and everything is quite equally in the very, very centre of their own life, not as an ego but as a beingness." The message is of self-renewal and human transformation: "There is just one step from being a victim of our own life, to being a hero."

The Procession, 2018   20 x 24″, Oil on Canvas
Evoking the spirit of her Latvian folkloric traditions, Brike constructs a visceral space where female characters come to womanhood on their own terms; their expressions are direct and unapologetic— longing, pleasure, stillness, synergy, curiosity, and youthful abandon transcend the every day, glittering with the possibilities of making one's history anew.
To view the PDF of works click here. To purchase the catalogue featuring all the works in "The Summer of the Wallflower" click here.